Women's Ministries of First Baptist Church seeks to fulfill Christ's mission by encouraging women with a sense of belonging to God and each other, enabling women to become who they are in Christ and equipping women for blessing others with the grace and truth of Jesus Christ. This mission statement of Women's Ministries is in the minds and on the hearts of the Leadership Team with each meeting, activity and event planned.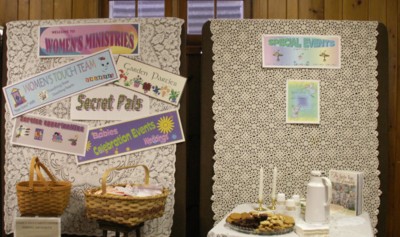 Photo of Women's Ministries booth

CELEBRATION EVENTS
Annual Christmas Tea....this event serves as a unique opportunity to invite the women of the church and the women of the surrounding communities to enjoy a delightful evening of reflection, refreshment and preparation for the celebration of Christ's birth. This event is planned to reach women for Christ and challenge Christian women to invite their friends and neighbors to attend this special evening together.
Secret Pal Opportunity....this on-going event allows women to encourage, surprise and bless the lives of their "pal" with cards, gifts and prayer throughout the year. The revealing of Secret Pals is a special event held each Fall. All the participating women anticipate finding out WHO that mystery lady in their lives has been.
Other events include garden parties during the warm months and fun nights of games, refreshments and lots of laughter during the "colder" months.
SPECIAL EVENTS
Wedding showers and baby showers for first babies (for both regular and new "attenders" of First Baptist Church), provide a wonderful avenue of ministry through caring, love and support. Moms having their second, third, etc. babies are blessed with a visit from various team members. A small gift for the mom and baby and refreshments are included with the visit. Retirements are acknowledged by the team through cards and gifts. Celebrating these life-changing events with the women of our church brings joy to both the recipients and to those involved in the ministry.
MISSIONS AND SERVICE
Collections and donations are received throughout the year for the Family Investment Center in our area. Clothing, personal items, food gift certificates, school supplies and Christmas decorations are some of the items that are collected and distributed to the Center.
Sewing projects (clothing and baby blankets) provide opportunites to serve our personal interest missionaries and our sister church in Ukraine.
Through Women's Ministries, items for the church kitchen are purchased, such as coffee pots and table cloths. The funding for WM is mainly through donations and occasional offerings.
SPIRITUAL GROWTH OPPORTUNITIES
The Women's Ministry team encourages and promotes opportunities for women of our church and community to grow in Christ and in relationship to each other. Trout Lake Camp Fall Refreshment Retreats; Christian Radio (Psalm 99:5) Women's Retreat; Silence, Study and Prayer Retreats at Trout Lake Camp; Spiritual Growth Seminars and Women's Bible Studies are some of these opportunities.
It is the prayer of the Women's Leadership Team that ALL of the women of the church would become involved in ministering to their friends and neighbors through simple acts of kindness and love. Perhaps Women's Ministries will be ONE way to help in this endeavor.